Guidance to a conference room

You can use the conference room on the first floor of this hotel as a multiple-purpose training room, such as company training, a meeting, educational training.
※In use, please apply by telephone in advance.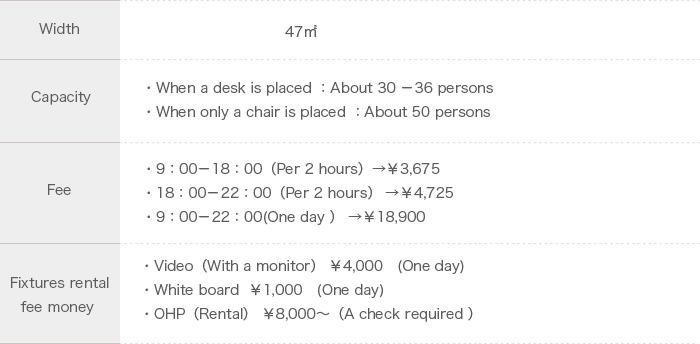 The cautions on conference room use
・When you carry in the instrument and equipment of use at a meeting, a show, etc., please carry in after obtaining consent in advance.

・When a user soiled, damaged or loses the construction incidental facilities of a conference room and this building, apparatus fixtures, etc., please indemnify to the damage.

・I refuse carrying in of the following goods for healthy preservation.
A thing with goods and other danger with explosiveness and ignition quality.
The thing out of which a remarkable sound, vibration, dust, and dust come.

・Managers need to indicate the layout of preparation before conference room use. However, please make a layout change during a training period of a visitor.

・The eating and drinking of a meal, tea drinking, etc. should use the restaurant of this hotel. The carrying in of the eating and drinking from outside of a hall should withhold.
(The drinking of the liquor in a conference room should withhold even from a vending machine inside a hall. )

・When the situation where it seems that the interior of a room covers noise, and exerts trouble on others, or it does arises, when [ other ] we accept when the act contrary to good public order and customs occurred in the user, there is a case where I have you leave at once.

According to the contents the case where it corresponds to above either, and for the purpose of use, since I may refuse use or an application, please understand beforehand. About the damage which occurs by stop, responsibility for compensation is not carried out now [ negative ]. Moreover, a usage fee is obtained the total amount also in these cases also including the time which is not used.