Tourist information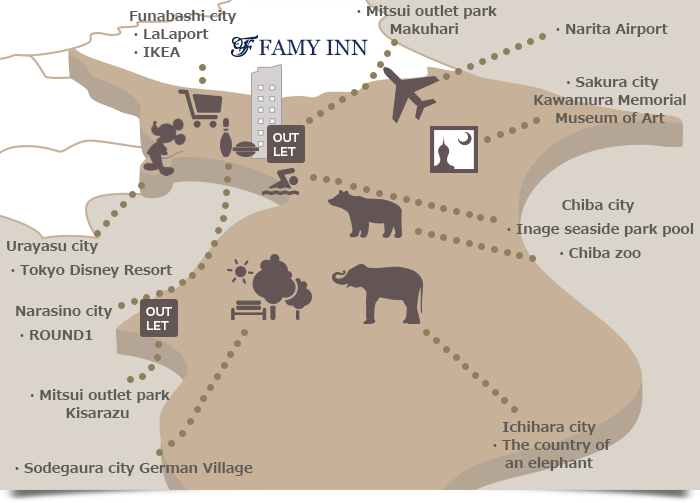 Urayasu city
Helicopter night cruise
(21.7km)

It rides on the helicopter of yearning. The helicopter sight-seeing cruise which remains in recollections. parent and child -- a helicopter boyfriend -- her and a best date. The sight-seeing flight of the great night view of Tokyo and Yokohama can be experienced. (reservation -- indispensable)

It is detailed.
Tokyo Disney resort
(23.7km)

The Tokyo Disney resort I will play thoroughly with favorite characters!

It is detailed.
Narita city
Narita Dream pasture
(56.6 km)

A sightseeing pasture with about 7 times of TOKYO DOME, and the width of 90,000 tsubos. A slide, a motocross and a unique event, and the contents are a truck train from milking experience of a cow, and a leisure spot to curve, and for it be many and perform at once. Pasture original goods are also subject.

It is detailed.
Museum of Flight
(42.1 km)

The museum about the aviation at the place contiguous to Narita International Airport. The YS-11 trial production of No. 1, the flight simulator of DC-8, the actual size mock-up of the guest room of the Boeing 747, the model of Narita Airport, etc. are exhibited. There is also a view restaurant which can command a whole view of Narita Airport.

It is detailed.
Rest area The Tako hydrangea hall
(55.7 km)

it is alike also in た of Tako Ohashi whom the national highway No. 296 and the Kuriyama river intersect, and station Tako of the way in which it is located is in the rural landscape extended horizontally. Three sets of white windmills and a big water wheel are symbols. In the contact market inside a hall, it takes in fresh and the morning including many old rice, and sells milk and ice cream of vegetables or a local dairy farmer.

It is detailed.
Sakura city
National history race museum
(28.8 km)

In the only national historical museum, it is in one corner of the Chiba Sakura ruins of a castle in our country which inquires and exhibits synthetically about Japanese history and culture. The exhibition data on the theme of the folk-customs world of history and Japanese people are like [ which cannot abandon in one day ].

It is detailed.
Kawamura Memorial Museum of Art
(28.6 km)

It is an art museum built in a vast garden. The vast exhibition room which makes a gymnasium consider is prepared so that the work group of huge contemporary art can appreciate inside of a hall calmly. Korin Ogata, Touhaku Hasegawa besides modern Europe pictures and contemporary art, etc. have the thing excellent also in Japanese modern pictures Touhaku " UROZU " is designated as the important cultural property. The "Rothko room" which exhibited only the work of seven points drawn for the classy restaurant in New York Seagram Building has a maestro of the 20th century abstract art, and Mark Rothko.

It is detailed.
Ichihara city, Sodegaura city, Kisarazu city